Check Point
Check Point 1120 Next Generation Threat Prevention Wireless Security Appliance
SKU#
---
A branch office is a vital business tool with unique security challenges and requirements. Our 1100 Appliance line is an all-in-one security appliance that offers robust, multi-layered protection with branch offices in mind, including flexible network interfaces and a compact, desktop form factor.
Delivers best-in-class security in an extensible architecture
Includes the comprehensive protections of our Next Generation Firewall, threat prevention, VPN (IPsec), intrusion prevention, application control, URL filtering, and anti-virus
Manages and controls branch gateways with local or central management
Provides an easy and intuitive web-based management interface for local maintenance
Offers profile-based central management for operating hundreds of devices
Comes in a compact desktop form-factor suitable for offices of up to 50 employees
Offers a wide variety of network access options including Ethernet, ADSL, 3G and 4G wireless
Supports high port density of 10 1GbE interfaces and wireless access
Delivers outstanding performance of up to 37 SecurityPower Units, 1.5Gbps of firewall throughput and 220Mbps of VPN throughput
Comprehensive security and threat prevention
These all-in-one appliances include our Next-Generation Firewall, which gives branch offices the same level of sophistication and protection as those designed for the corporate network. And because the 1100 Appliances leverage the flexible Software Blade Architecture, you can customize your device to deliver a rich set of advanced security functionality.
Simple configuration and deployment
We designed this appliance class to be as easy as possible to set up. Even non-technical staff can easily perform initial setup and configuration via a simple start-up wizard, and be up and ready in minutes.
Flexible network connections with high capacity
At the branch office, you need all the flexibility you can get. That's why our 1100 Appliances come with a variety of connectivity options.
10 1Gbps Ethernet ports
Optional integrated ADSL modem
USB and PCI Express card slots for additional WAN connectivity or a redundant Internet link
Optional WiFi access point (802.11b/g/n) that supports WEP, WPA and WPA2 authentication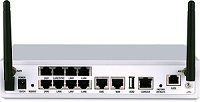 Local and central management capabilities
 We make it easy to administer your appliance, whether or not you have IT staff on hand at the remote location. A simple web-based local management interface allows administrators working on-site to secure a branch office in minutes. At the corporate headquarters, leverage central tools to define security policy for the entire network, including your 1100 Appliance. For the largest enterprises, we offer SmartProvisioning™, a profile-based management tool that lets you define a single security and device profile, and apply it simultaneously to thousands of 1100 Appliances.
Appliance

1120

1140

1180

Recommended Users
With Firewall & VPN Only

Up to 20

Up to 50

Up to 100

With Threat Prevention

Up to 10

Up to 25

Up to 50

Mobile Access (concurrent users)

5

10

20

Performance
SecurityPower1

28

34

37

Firewall Throughput (Mbps)
 Raw2

750

1000

1500

 Production4

up to 350

up to 350

up to 350

VPN Throughput (Mbps)

140

175

220

IPS Throughput (Mbps)
 Recommended3

50

67

100

 Production4

up to 30

up to 30

up to 30

Antivirus Throughput (Mbps)

50

67

100

 Connections per Second

5,000

5,000

5,000

 Concurrent Connections

200,000

200,000

200,000

Hardware Specifications
1 GbE LAN Ports

8

8

8

1 GbE WAN Port

1

1

1

1 GbE DMZ Port

1

1

1

ADSL2/ADSL2+ (Annex A or B)

Optional

Optional

Optional

802.11 b/g/n Wireless

Optional

Optional

Optional

USB

2

2

2

PCI Express Slot

Included

Included

Included

SD Card Slot

1

1

1

3G and 4G Modem Support

Yes

Yes

Yes

Dimensions
Enclosure

Desktop

Desktop

Desktop

Standard (W x H x D)

8.75 x 1.75 x 6 in

Metric W x H x D()

22 x 4.4 x 15.24 cm

Weight

1.2 kg (2.65 lbs)

Environment
Operating Environment

0ºC ~ 40ºC (5~95%, non-condensing)

Power Requirements
AC Input

100 - 240 VAC

Frequency

50 - 60 Hz

Power Supply Rating

12V/2A DC 24W (Wired Models) 12V/2.5A DC 30W (ADSL & Wireless Models)

Maximum Power Consumption

16.68 W

Maximum Thermal Output

56.9 BTU

Certifications
Safety

UL/c-UL 60950-1_2nd_2007(US+CA) IEC 60950-1_2nd_2005-CB

Emissions

EMC: EN55022+24_2007-ITE FCC: FCC P15B+ICES-003-ITE

1: Check Point's SecurityPower is a new benchmark metric that allows customers to select security appliances by their capacity to handle real-world network traffic, multiple security functions and a typical security policy 2: Raw throughput is based on RFC 3511 with 1518 bytes UDP packets 3: Recommended IPS profile, IMIX traffic blend 4: Assumes maximum production throughput environment with real-world traffic blend, multiple Security Software Blades, a typical rule-base size, NAT and logging enabled and the most secure threat prevention protection